Laguna Bar & Bistro
The Reef Laguna Bar & Bistro is fast becoming one of the places to be in Noosa. With spectacular views, delectable food and an extensive variety of drinks, it is ideal for any time of the day.
Laguna Bar & Bistro showcases a modern venue and offers a vast array of options to suit all. It has a lively and friendly atmosphere whilst retaining its sophistication and style.
Whether it's a function space for an event, live music or enjoying a beer, cocktail or wine on the deck overlooking the views of Noosa, Laguna Bar & Bistro wont disappoint.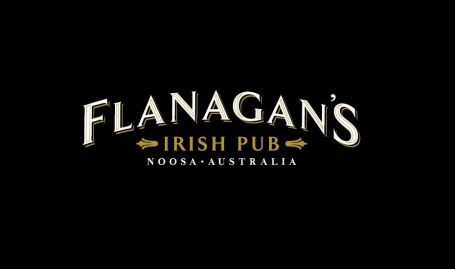 Flanagan's
Flanagan's Irish Bar is a brand new Noosa hotspot that's raised the bar for Irish pubs across the land. No expense has been spared on our luxury fit-out which transformed the lower level of the Noosa Reef Hotel into a slick and stylish, Irish-themed bar, complete with dance floor and stage for bands and featured entertainment. The opulent refurbishment includes lashings of walnut timber, designer decor, custom-made booth seating, ornate balustrades and lighting, and loads of Irish charm.
Guinness and Kilkenny on tap are the stars at Flanagan's, alongside a great range of new beers, ciders and everyone's pub favourites. Our menu is traditional Irish far with Guinness Pie a clear favourite and Cider Mussels are a close second. Lunch and dinner is available daily.
Flanagan's Irish Bar transforms into 'HOOD' on Friday evening featuring R&B artists from across the land and overseas from 9pm. Saturday nights sees 'SODA' in – be entertained by top performing DJ's and artists from 9pm & Sundays 'SINDAYZ' featuring all the best funk and beats to fill you Sunday session from 6pm.
Flanagan's at the Noosa Reef Hotel is open seven days from 10am til late.
Promotions Available at the Bar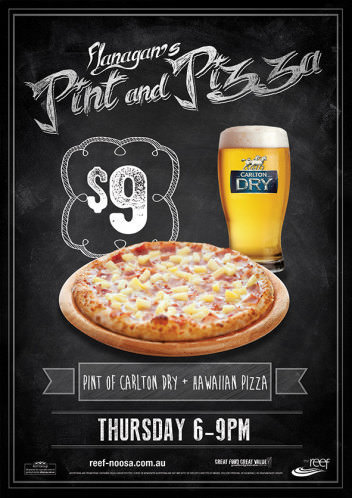 Pizza and Pint
Don't miss our great value pizza meal deal on Thursday nights. For just $9 enjoy a delicious Hawaiian pizza and a pint of Carlton Dry.
Conditions apply. Not available with any other offer. May not be available on public holidays. See staff for details.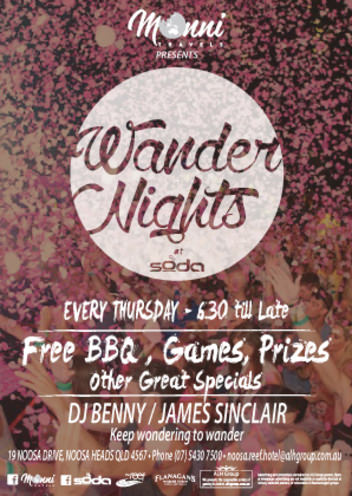 Wander Nights
WANDER NIGHTS is a weekly travel party hosted by Monni Travels in Flanagan's. The is a sausage sizzle from 6.30pm, with great games and prizes to giveaway. Dj's Benny & James Sinclair will be on the decks weekly playing the best party tunes to get the evening bopping.
18+ Only - Photo ID required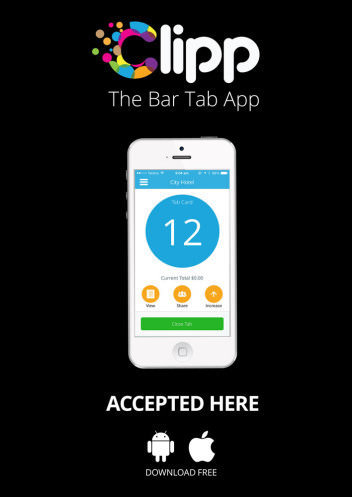 Clipp the Bar Tab App is Now Here
Clipp the Bar Tab App allows you to pay for food and drinks directly from your smartphone.
Simply download the app and connect a credit card to your account.
Set your tab limit and and flash your phone when placing your order.
View all your transactions in real time and when you're ready to leave, simply close the tab from your phone.
Come and give it a go!
See staff for details and conditions.