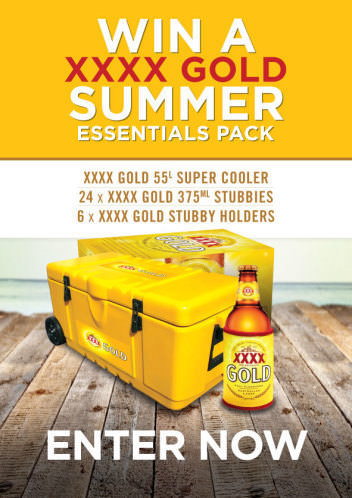 WIN A XXXX GOLD SUMMER ESSENTIALS PACK
Be the envy of your mates and win a XXXX Gold Summer Essentials Pack this summer!
One winner will enjoy a XXXX Gold 55L Super Cooler, a XXXX Gold slab and six XXXX Gold stubby holders valued at $440.
Drawn Monday 26 January 2015. 18+ Only. Furthers Terms and conditions apply.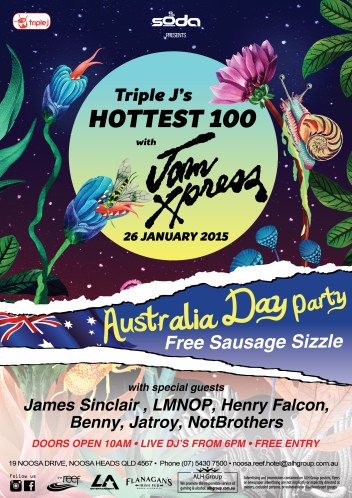 Soda Australia Day Party
Australia Day, Monday 26th January, see's the Noosa Reef Hotel transform into the little Aussie Reef Hotel. We have got a massive day planned, jammed packed full of Aussie tunes, Aussie food and good old Aussie fun for all.
Kicking off at 10am in the morning, the doors swing open for the JJJ Hottest 100 live countdown streamed live throughout the whole venue as a registered official Triple J Hottest 100 Party Venue. There will be a free sausage sizzle from 12-2pm & 4pm-6pm in Flanagan's Irish Pub (it's actually really Australian because it's an Irish Pub in Australia - you know, just like on St. Patrick's Day everyone is Irish...)
At 6pm, directly after the conclusion of Triple J's Hottest 100, we fire up the one's and two's with an awesome line up of DJ's to kick you through the remainder of the public holiday. JAM XPRESS will be headlining the night with local supports, James Sinclair, Lmnop, Henry Falcon, Benny, Jatroy, Notbrothers.
This is a FREE event
18+ Only - Photo ID required
Doors open 10am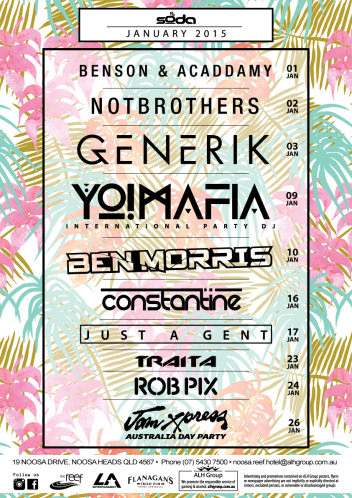 Soda January Line-up
We have an impressive line-up of guest artists ready to lay down some funky grooves this January.
Jan 1 - Benson & Accadamy
Jan 2 - Notbrothers
Jan 3 - Generik
Jan 9 - Yo! Mafia
Jan 10 - Ben Morris
Jan 16 - Constantine
Jan 17 - Just a gent
Jan 23 - Traita
Jan 24 Rob Pix
Jan 26 - Jam Xpress
Saturday 14th February 2015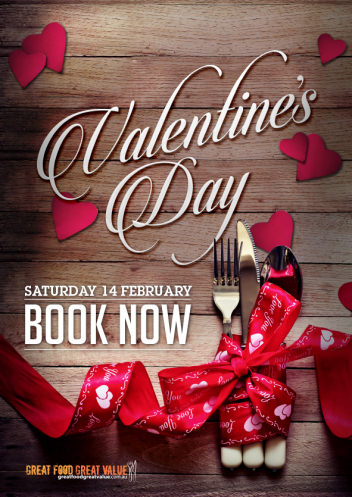 Book Now For Valentine's Day
Saturday 14th February
Valentine's Day is on the way so get in early and book your romantic date for two today.
Conditions apply. Bookings are essential. Not available with any other offer. See staff for details.
Saturday 14th February 2015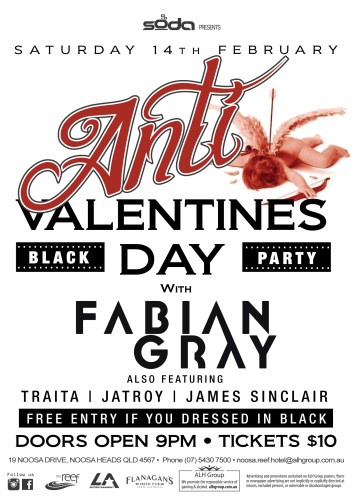 ANTI-VALENTINES BLACK PARTY featuring FABIAN GRAY
Soda this year is celebrating the lack of love in the world and the drive to be single and free, so come and celebrate Anti Valentines Day with us, and enjoy our warm clubbing embrace...(free entry if wearing black).
Fabian Gray's style has changed progressively, from the time he entered the music scene until now. Beginning with a more electro/minimal feel to his tracks, he has progressed into the mainstream; producing main room hits with a progressive and vocal feel, all prerequisites to satisfy an energetic and youthful crowd. With an extensive list of studio artists he has worked alongside with, the list includes Zoe Badwi, Emanuele Mamo, Matt Caseli, Danny Freakazoid, Camille Jones, Chardy, Inaya Day, Tom Novy and Camille Jones.
Every DJ aspires to become a household name, Gray is not the exception. However, with serious credentials, some might say he is already halfway there. Instead of adhering to the status quo of what Producer/DJ's are doing today, Gray creates his own unique sound. By combining electro and big vocals with a progressive house feel, he has created the sound of Fabian Gray but still hasn't strayed too far from his European house roots', managing to retain what keeps people coming back every weekend. His passion is obvious in his productions and live acts, making them both fresh and timeless.
$10
18+ Only - Photo ID required
From 9pm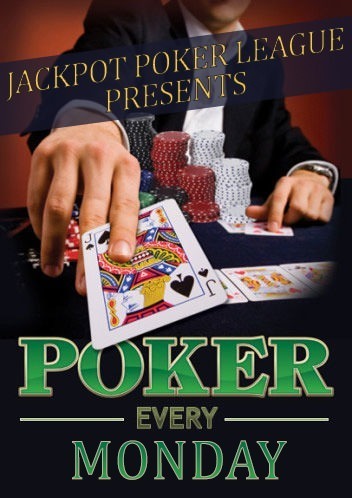 Poker
Presented by Jackpot Poker League
Don't miss our Monday night Poker presented by JACKPOT POKER LEAGUE
6pm Registration
7pm START
Massive Cash prize pool of $225
Food and refreshments available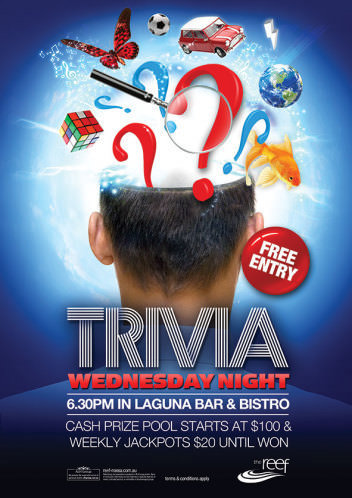 Wednesday Night Trivia
In Laguna bar and Bistro.
Test those little grey cells at our Trivia nights!
Cash prize pool starts at $100 and weekly jackpots $20 until won Don't miss the fun!
Conditions apply. See staff for details.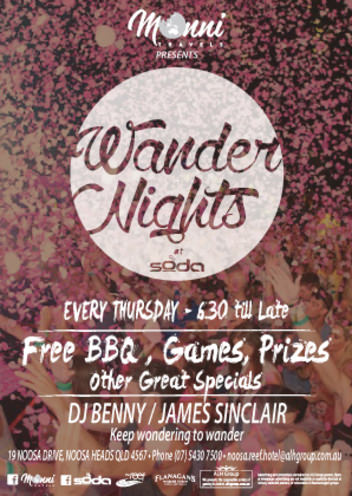 Wander Nights
WANDER NIGHTS is a weekly travel party hosted by Monni Travels in Flanagan's. The is a sausage sizzle from 6.30pm, with great games and prizes to giveaway. Dj's Benny & James Sinclair will be on the decks weekly playing the best party tunes to get the evening bopping.
18+ Only - Photo ID required
In the Bistro from 2pm - 6pm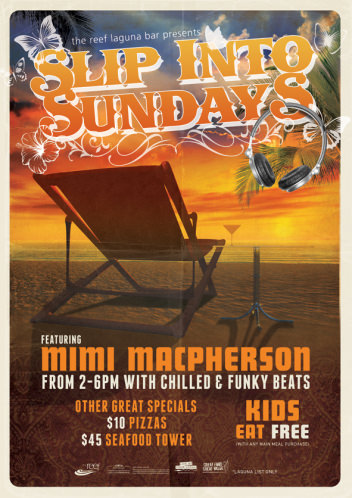 Slip Into Sundays
Featuring Mimi Macpherson
Slip into Sundays with Mimi Macpherson playing chilled and funky beats in the Bistro. Finish off your weekend in style, sit back, relax and enjoy the views out on the deck over looking Laguna Bay.
Cocktails available all day as well as $10 Pizzas , Seafood Towers for $45 and Kids eat FREE* with any main meal purchase.
Our Bistro is open from 12pm - 9pm for all day dining.
Conditions apply. May not be available on public holidays. See staff for details.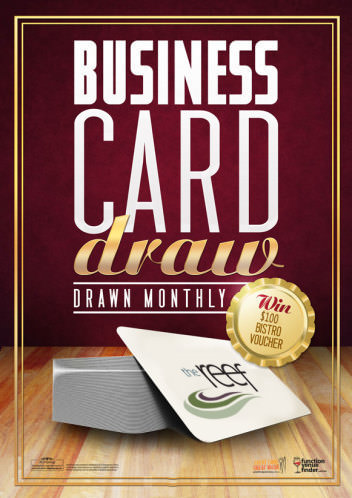 Business Card Draw
Come into our Bistro and drop your business card into the barrel to go into the draw to win $100 Dinner Voucher. It's as easy as that! Monthly draws for your chance to win!
Gaming Promotions
Come in and enjoy great prizes and entertainment in our Gaming room.
Monday to Thursday 10am - 4pm
Pokie Play: Scratch & Match or Second Chance Draw
Scratch to win instant cash or enter second chance draw on Thesdays at 4.30pm (must be present to win).
Fridays from 3pm - 8pm
Crazy Cash 3pm - 4pm
Meat Trays 5pm - 6pm
Members Draw 7pm
Conditions apply. Gaming room only. See staff for details.
18+ Only - Photo ID required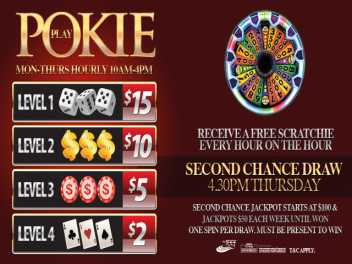 Pokie Play
Have your chance to win with our Pokie Play from Monday to Thursday hourly 10am - 4pm.
Level 1 $15
Level 2 $10
Level 3 $5
Level 4 $2
Receive a free scratchie every hour on the hour.
Second chance draw 4.30pm Thursday - Second chance jackpot starts at $100 and jackpots $50 each week until won. One spin per draw. Must be present to win.
Conditions apply. Gaming room only. See staff for details.
18+ Only - Photo ID required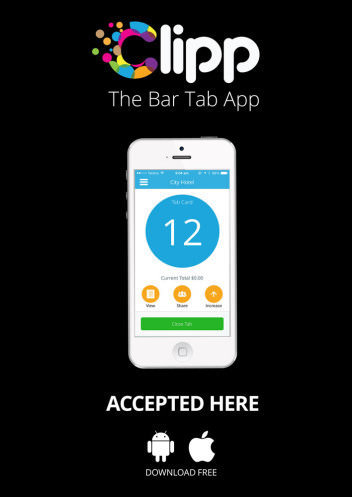 Clipp the Bar Tab App is Now Here
Clipp the Bar Tab App allows you to pay for food and drinks directly from your smartphone.
Simply download the app and connect a credit card to your account.
Set your tab limit and and flash your phone when placing your order.
View all your transactions in real time and when you're ready to leave, simply close the tab from your phone.
Come and give it a go!
See staff for details and conditions.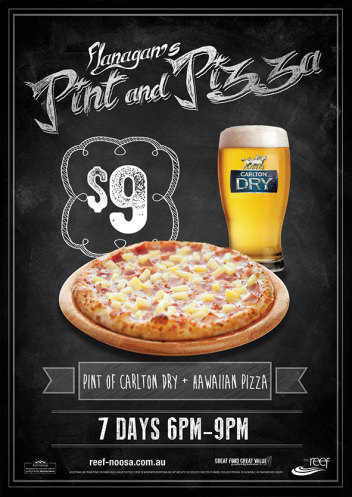 Pizza and Pint
Don't miss our great value pizza meal deal available every day from 6pm - 9pm. For just $9 enjoy a delicious Hawaiian pizza and a pint of Carlton Dry.
Conditions apply. Not available with any other offer. May not be available on public holidays. See staff for details.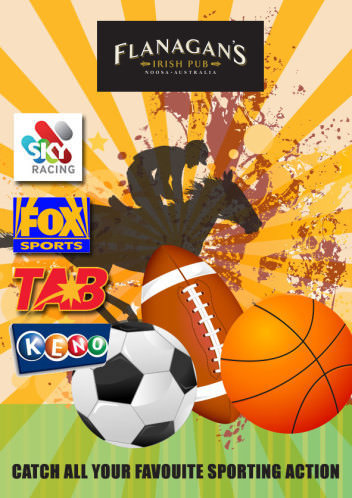 Catch Your Favourite Sporting Action
Flanagan's Irish bar has all your favourite sporting action with full TAB wagering facilities open daily from 10am until late. Watch Fox Sports, Sky Racing and enjoy our KENO facilities as well.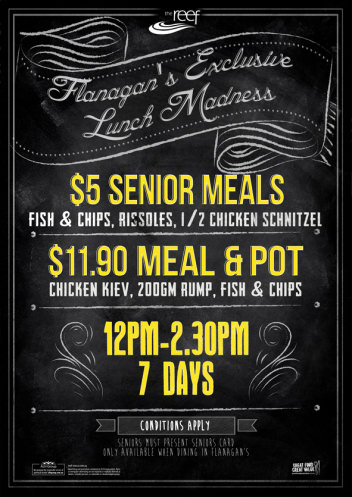 Flanagan's Every Day Lunch
Every day of the week we have the best lunch specials available.
Enjoy a $11.90 meal and pot from our selected range or if you are lucky enough to posses a seniors card, we have an amazing $5 deal for you.
Conditions may apply. Not available with any other offer and may not be available on public holidays. Please ask a staff member for details.