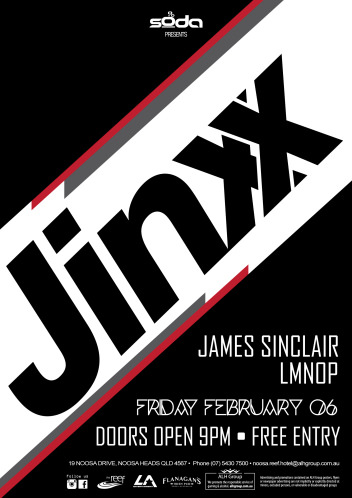 Jinxx
As far as local Sunshine Coast DJs go, JINXX is knocking it out of the park. Recently hooked up with residency at Soda, their following has swelled and they give the love back with plenty of commercial house, deep house and acapella drops to keep the kids cutting the rug.
Headlining for their first time as residents having supported the likes of ALEX ELLENGER (ibiza), SAMRAI, BAGRAIDERS, JUST A GENT, MOBIN MASTER and many others, JINXX is not to be missed!
This is a FREE event
18+ Only - Photo ID required
Doors 9pm
Saturday 7th February 2015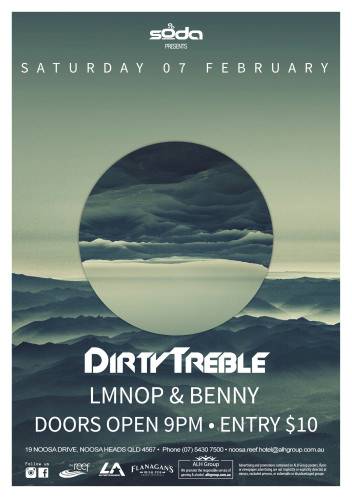 Dirty Treble
With Dirty Treble (Jon Miller) not focused on one genre, and his sets ranging from 1 to 7 hours, he understands perfectly how to unite dance floors with atmospheric blends of house, hypnotic vocals, Tech house, Dutch house, Electro and elements of Progressive.
His DJ sets take you on a journey, from the crowd-pleasing formulas of vocal house, to an uplifting mayhem of upfront electro and old school piano hooks. With his ability to read a crowd, superior mixing ability and outstanding knowledge of his tools, Jon leaves you wanting more.
$10 entry
18+ Only - Photo ID required
Doors 9pm
Friday 13th February 2015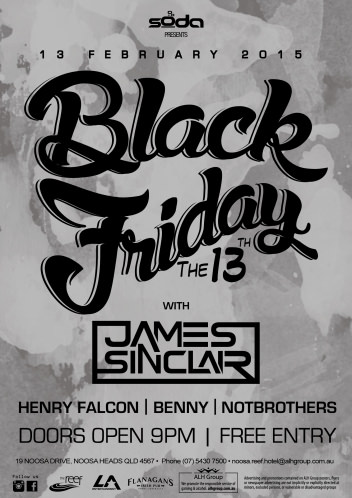 James Sinclair
Better known as our resident Dark Arts Jedi Master, JAMES SINCLAIR can throw down a killer set that seems to play some form of mind dance trick on one and all. His set rolls through deep house tunes and fresh beats and breaks to keep the floor moving.
JAMES has been headline support for such big artists as SAMRAI, LADYHAWKE, MOBIN MASTER, BENSON, ACADDAMY, KOMES, CHARDY, NINO BROWN and many many more. Be sure see see his jedi mastery on the 1's & 2's at SODA
This is a FREE event
18+ Only - Photo ID required
Dooors 9pm
Saturday 14th February 2015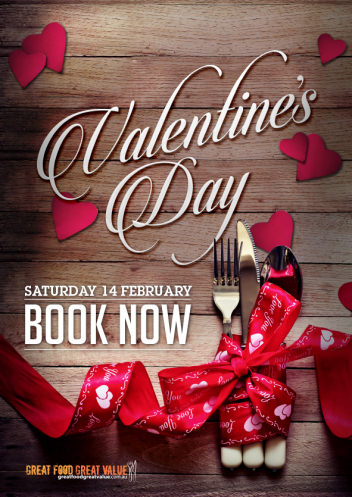 Book Now For Valentine's Day
Saturday 14th February
Valentine's Day is on the way so get in early and book your romantic date for two today.
Conditions apply. Bookings are essential. Not available with any other offer. See staff for details.
Saturday 14th February 2015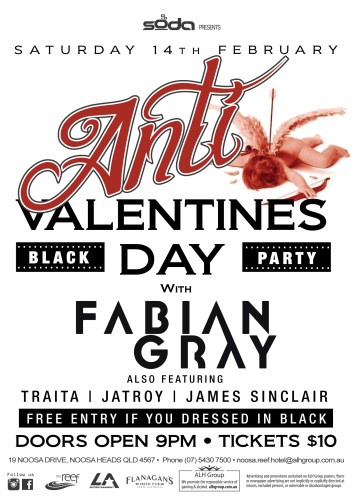 ANTI-VALENTINES BLACK PARTY featuring FABIAN GRAY
Soda this year is celebrating the lack of love in the world and the drive to be single and free, so come and celebrate Anti Valentines Day with us, and enjoy our warm clubbing embrace...(free entry if wearing black).
Fabian Gray's style has changed progressively, from the time he entered the music scene until now. Beginning with a more electro/minimal feel to his tracks, he has progressed into the mainstream; producing main room hits with a progressive and vocal feel, all prerequisites to satisfy an energetic and youthful crowd. With an extensive list of studio artists he has worked alongside with, the list includes Zoe Badwi, Emanuele Mamo, Matt Caseli, Danny Freakazoid, Camille Jones, Chardy, Inaya Day, Tom Novy and Camille Jones.
Every DJ aspires to become a household name, Gray is not the exception. However, with serious credentials, some might say he is already halfway there. Instead of adhering to the status quo of what Producer/DJ's are doing today, Gray creates his own unique sound. By combining electro and big vocals with a progressive house feel, he has created the sound of Fabian Gray but still hasn't strayed too far from his European house roots', managing to retain what keeps people coming back every weekend. His passion is obvious in his productions and live acts, making them both fresh and timeless.
$10
18+ Only - Photo ID required
From 9pm
San Holo
Freshly escaped from an intergalactic flight through the multiverse, he is San Holo.
This future beats to trap connoisseur made his debut on Heroic with the single Hiding (ft. The Nicholas), also via Point Point's Filet Mignon compilation. A true head turner, it garnered the support of major tastemakers in the scene, including LessThan3, Earmilk, Trap.NET and more.
And the rumors were true. Jedi's truly got nothing on him. That's why he's dropping his debut EP 'COSMOS' with Heroic Recordings, on September 18th. A four track journey through the cosmos, covering bass ridden territory - innovating on future beats, trap, chill trap and melodic levels. Ripe for the clubs, but just as ready for the radio. Already supported by Diplo & Friends, GANZ, Deon Custom and GRMM (who is also on remix duty). Mastered to perfection in the Red Bull Studios Amsterdam.
$10 entry
18+ Only - Photo ID required
Doors 9pm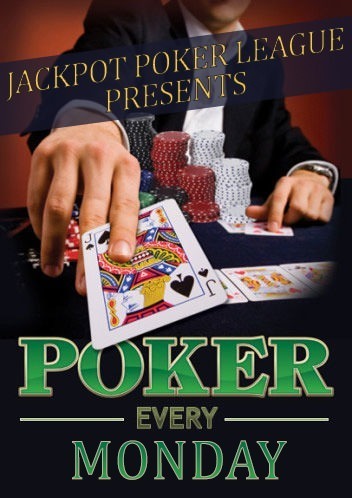 Poker
Presented by Jackpot Poker League
Don't miss our Monday night Poker presented by JACKPOT POKER LEAGUE
6pm Registration
7pm START
Massive Cash prize pool of $225
Food and refreshments available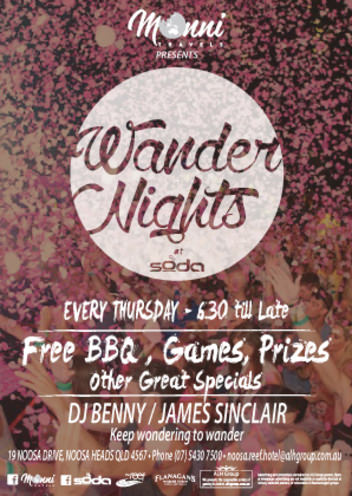 Wander Nights
WANDER NIGHTS is a weekly travel party hosted by Monni Travels in Flanagan's. The is a sausage sizzle from 6.30pm, with great games and prizes to giveaway. Dj's Benny & James Sinclair will be on the decks weekly playing the best party tunes to get the evening bopping.
18+ Only - Photo ID required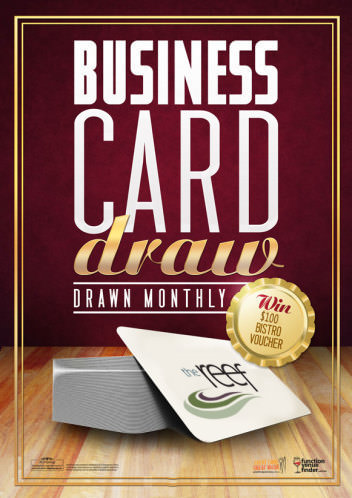 Business Card Draw
Come into our Bistro and drop your business card into the barrel to go into the draw to win $100 Dinner Voucher. It's as easy as that! Monthly draws for your chance to win!
Gaming Promotions
Come in and enjoy great prizes and entertainment in our Gaming room.
Monday to Thursday 10am - 4pm
Pokie Play: Scratch & Match or Second Chance Draw
Scratch to win instant cash or enter second chance draw on Thesdays at 4.30pm (must be present to win).
Fridays from 3pm - 8pm
Crazy Cash 3pm - 4pm
Meat Trays 5pm - 6pm
Members Draw 7pm
Conditions apply. Gaming room only. See staff for details.
18+ Only - Photo ID required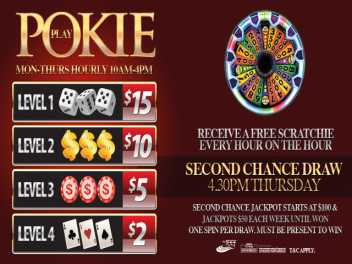 Pokie Play
Have your chance to win with our Pokie Play from Monday to Thursday hourly 10am - 4pm.
Level 1 $15
Level 2 $10
Level 3 $5
Level 4 $2
Receive a free scratchie every hour on the hour.
Second chance draw 4.30pm Thursday - Second chance jackpot starts at $100 and jackpots $50 each week until won. One spin per draw. Must be present to win.
Conditions apply. Gaming room only. See staff for details.
18+ Only - Photo ID required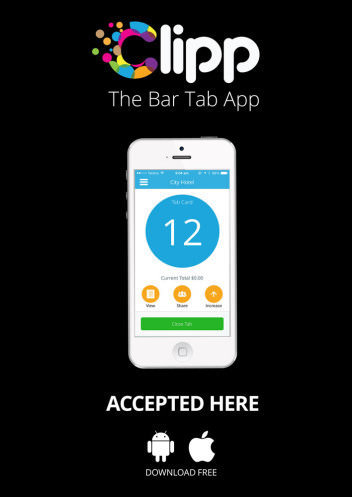 Clipp the Bar Tab App is Now Here
Clipp the Bar Tab App allows you to pay for food and drinks directly from your smartphone.
Simply download the app and connect a credit card to your account.
Set your tab limit and and flash your phone when placing your order.
View all your transactions in real time and when you're ready to leave, simply close the tab from your phone.
Come and give it a go!
See staff for details and conditions.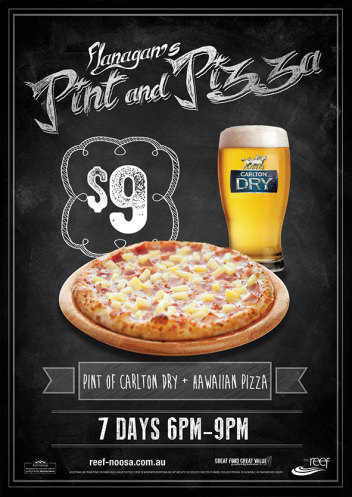 Pizza and Pint
Don't miss our great value pizza meal deal available every day from 6pm - 9pm. For just $9 enjoy a delicious Hawaiian pizza and a pint of Carlton Dry.
Conditions apply. Not available with any other offer. May not be available on public holidays. See staff for details.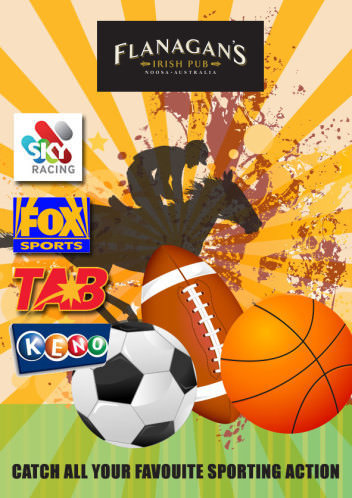 Catch Your Favourite Sporting Action
Flanagan's Irish bar has all your favourite sporting action with full TAB wagering facilities open daily from 10am until late. Watch Fox Sports, Sky Racing and enjoy our KENO facilities as well.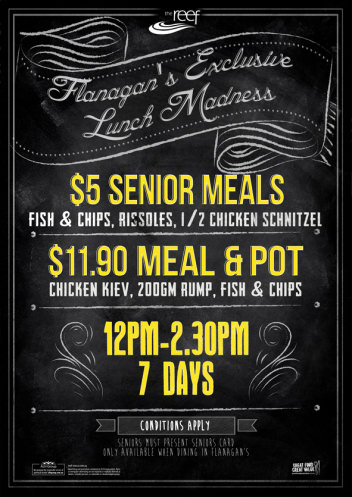 Flanagan's Every Day Lunch
Every day of the week we have the best lunch specials available.
Enjoy a $11.90 meal and pot from our selected range or if you are lucky enough to posses a seniors card, we have an amazing $5 deal for you.
Conditions may apply. Not available with any other offer and may not be available on public holidays. Please ask a staff member for details.