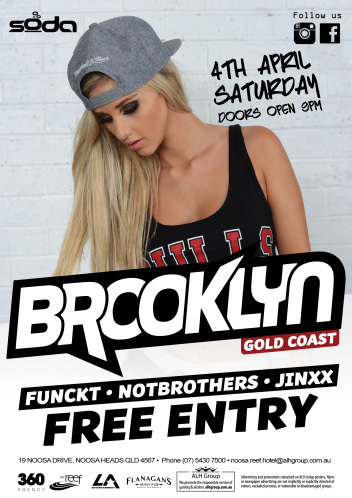 Brooklyn
BROOKLYN is a DJ, performer and a creative genius with her sights set on becoming Australia's next big superstar. She has played at every major party spot in the country from her residency at Platinum Nightclub on the Gold Coast, down to Marquee in Sydney, Billboards in Melbourne and everywhere in between. Her stellar performance has not only taken her around Australia but also across the Pacific Ocean to the biggest venues on the Asian continent in Singapore, Indonesia and Malaysia.
For Brooklyn, performing is about losing herself in the energy of the crowd giving them that feeling of breaking free from reality. The dance floor becomes body-hugging when Brooklyn is in the booth, playing big room, electro-house, bounce, the latest anthems and anything with that deep pounding bass. Brooklyn is not just a DJ, she is a performer erupting with rhythmic dance moves any moment she can get away from the decks. Some lucky dance floor enthusiasts even get a 'selfie' with her.
Brooklyn is a promising artist who is going to set SODA alight!
This is a FREE event
18+ Only - Photo ID required
Doors 9pm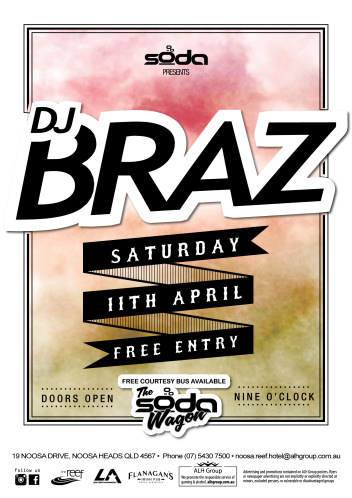 DJ Braz
Starting from humble beginnings, DJ BRAZ sharpened his skills playing at top 40 and commercial bars and nightclubs. As time progressed, so did his DJ skills and his reputation for killer club sets, leading to a string of successful gigs from the sunshine coast down to byron bay.
In only a few short years, he has accumulated an extensive DJ CV, and with residencies at various reputable clubs and bars, is well on his way to becoming one of the most sought after DJs of the future. He has played alongside acts such as:
: THE WARP BROTHERS
: THE STAFFORD BROTHERS
: JIMMY Z 4PLAY
: CRAIG OBEY
: SMASH AND GRAB
: NICK SKITZ
: EVERMORE
: BUTTERFINGERS
This is a FREE event
18+ Only - Photo ID required
Doors open 9pm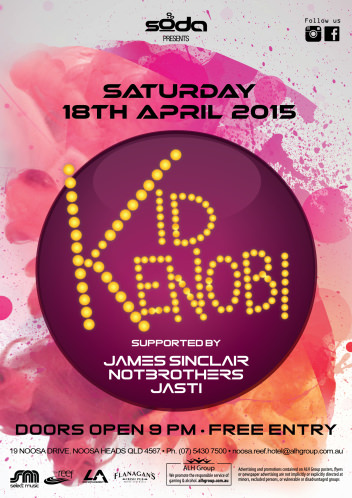 Kid Kenobi
Since his early beginnings behind the decks in 1996, Sydney based Kid Kenobi has steadily risen to his current place as the busiest DJ on Australian shores, now widely regarded as the home of the most booming breaks scene in the world.
2002 and 2001 saw him awarded Australian DJ of the Year, and in 2001 awarded People's Choice NSW DJ of the Year at the Australian Dance Music Awards. Complimenting these awards are endless residencies and guest spots around the country where the Kid plays to consistently packed out houses. His debut remix of Green Velvet's "La La Land", a collaboration between Kid Kenobi and Poxy Music (Pocket and Ken Cloud) is also out now on Hussle Recordings, receiving great reactions from both international and local djs as well as trainspotters from around the globe.
Called to explore foreign shores and a "break" into production has taken the Aussie breaks battler to the UK, Europe and New York where he engaged in a number of overseas performances and spent time in the studio with some of his favorite international engineers. If the past is anything to go by, the future looks very bright indeed. Don't miss Kid Kenobi at Soda!
This is a FREE event
18+ Only - Photo ID required
9pm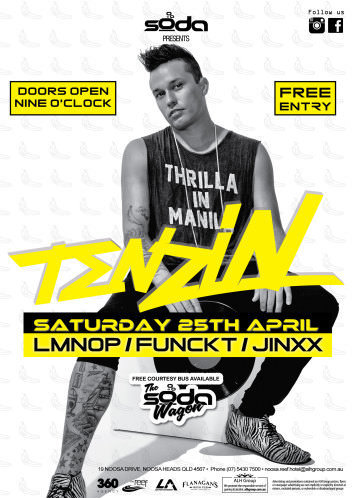 Tenzin
Touring nationally with Australia and Asia's acclaimed Future Music Festival and luring club cats with a feast of electronic offerings, Tenzin holds his own - seizing thousands of dance music devotees.
On enviable residencies like Marquee Sydney and boasting a ferocious blend of house, electro and self-commanding party-dub, this dance decoy is ravenous behind the booth and in the studio across cities globally.
Locked away in the studio, the Sydney sider has lifted the lid on copious high quality electronic vibes on original affairs, while taking remix roles on tracks for Lil Wayne, Stafford Brothers, Kaz James, Pitbull and more; notable on 'Letting Go (Cry Just A Little)' for Qwote featuring Pitbull and G-Wizard feat Wiz Khalifa and Snoop Dogg on 'Checkmate'. On the solo tip, 'Horny' with Timmy Trumpet took top 5 in the ARIA chart while recent drops have seen 'Mother Truckers' with Bombs Away and 'Black Cyrus' with G-Wizard feat Nicki Minaj igniting the elite line.
This is a FREE event
18+ Only - Photo ID required
9pm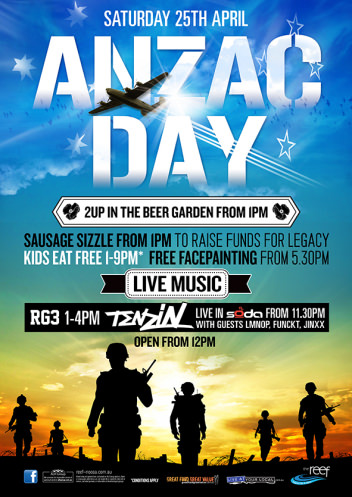 Anzac Day
ANZAC DAY CENTENARY
SATURDAY 25th APRIL
This Anzac Day, The Noosa Reef Hotel will be celebrating the Centenary of Anzac Day with all guns blazing!
Our Bistro will be open from 12pm providing you with meals & refreshment. We have 2UP in the Beer Garden from 1pm, a sausage sizzle with all funds raised going to support Legacy.
KIDS EAT FREE from 12pm-9pm with the purchase of any meal over $20.
FREE FACE PAINTING in the REEF RANGERS club house from 5.30pm.
Live Band, RG3 in Flanagan's Irish Bar from 1pm-4pm.
DJ TENZIN on the 1's & 2's in SODA from 11.30pm supported by LMNOP, FUNCKT & JINXX.
Make sure you don't miss this massive celebration of our strong ANZAC history.
Lest We Forget.
Starts Wed 1st April
Ends Thu 30th April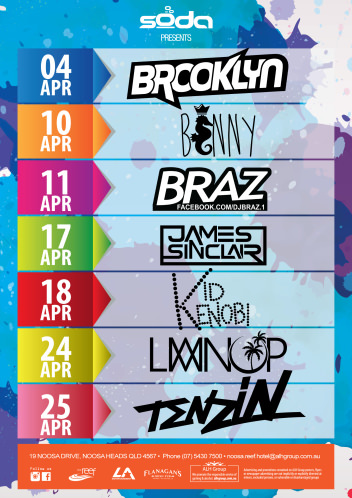 Weekends at Soda - April
We have a massive line up of touring and resident DJs to help smash out your weekends at SODA in APRIL.
4th - Brooklyn
10th - Benny
11th - Braz
17th - James Sinclair
18th - Kid Kenobi
24th - LMNOP
25th - Tenzin

FREE entry all the time!
CATCH THE FREE SODA WAGON on Fridays and Saturdays from Hastings St.
This is a FREE event
18+ Only - Photo ID required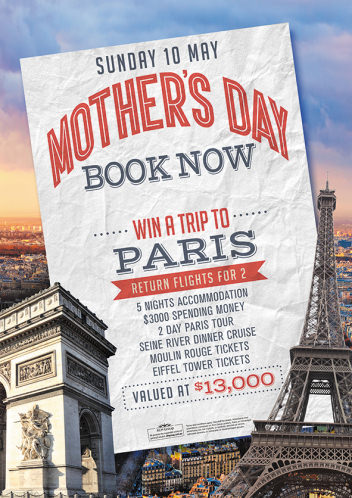 Book Now For Mother's Day
At The Reef
Spoil Mum this Mother's Day and book in for breakfast, lunch or dinner at the Noosa Reef today.
Dine with us, Sunday 10 May and go in the draw to win a fantastic trip for two to Paris valued at $13,000!
Bookings essential. See staff for details.
Breakfast - 7am - 10am
Lunch - 12pm - 5pm
Dinner - 5pm - 8:30pm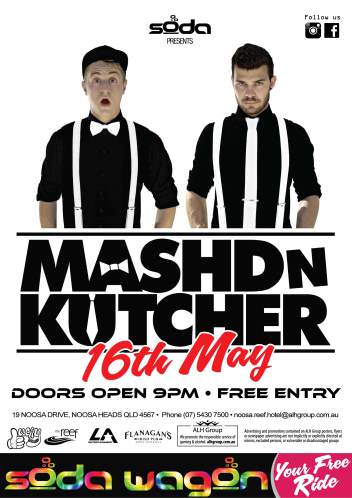 Mashd N Kutcher
Meeting each other in 2013 in their hometown of Brisbane Australia, Mashd N Kutcher are definitely not your average DJs.
After having only known each other for a couple of months, the boys decided to create a live show, combining their skills as a metal drummer & a classical pianist.
Before they knew it, they had signed to Lucky Ent. and hit the road, taking their unique mashups to pubs and clubs across Australia.
Not long after, they also secured a weekly national radio segment on Australia's Party People, on the Austereo Network, not to mention an online following of over 20 thousand on Facebook, and over a million plays on Soundcloud.
18 months down the track, and MNK have played almost 200 shows across Australia, Asia & New Zealand.
In 2015 expect singles, collaborations, and a whole new level of live shows.
This is a FREE event
18+ Only - Photo ID required
Doors open 9pm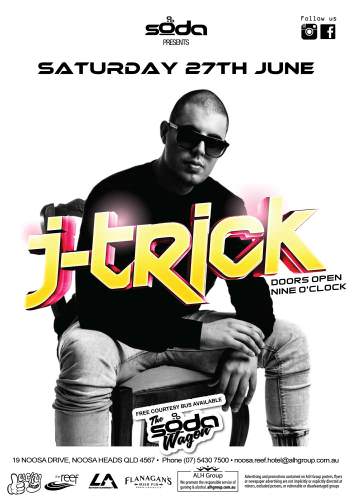 J-Trick
Falling in line with his production apt, J-Trick has cemented himself as a nationwide major player. Performing week in week out across Australia headlining all the premier venues and events, J-Trick is undoubtedly one of Australia's most in demand performers.
So much so, he was recently recruited by Ministry Of Sound to mix their 'Bounce Sessions' compilation alongside SCNDL, including a vigorous nationwide tour to coincide with the release. These amazing feats and rise through the ranks have not gone unnoticed, with
 J-Trick securing himself the accolade of being ranked in Australia's top 20 DJ's via the In The Mix Top 50 poll two years running.
As if juggling tireless hours in the studio, holding down coveted residencies across the country an mixing compilations wasn't enough, the motivated and driven youngster is the head honcho at Club Cartel Records. Dedicated to delivering only high quality releases since mid 2011, this label spearheaded by J-Trick has already received plenty of international support and been the home ground for the likes of Deorro, Uberjak'd, Will Sparks, Reece Low and more. This is a testament to not only J-Trick's skills as a producer but also his knack for knowing what makes a great record.
18+ Only - Photo ID required
Doors 9pm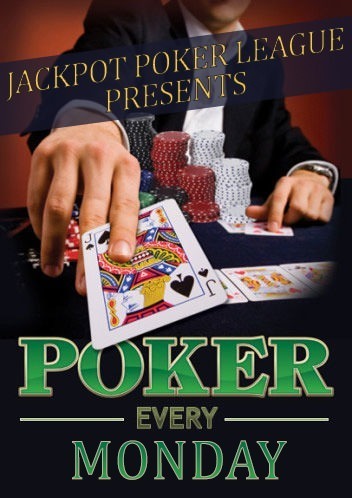 Poker
Presented by Jackpot Poker League
Don't miss our Monday night Poker presented by JACKPOT POKER LEAGUE
6pm Registration
7pm START
Massive Cash prize pool of $225
Food and refreshments available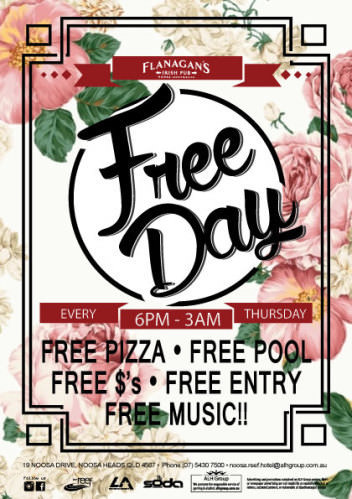 Free Thursdays
FREE POOL
FREE PIZZA
FREE MUSIC
FREE $s
FREE ENTRY
This is a FREE event
18+ Only - Photo ID required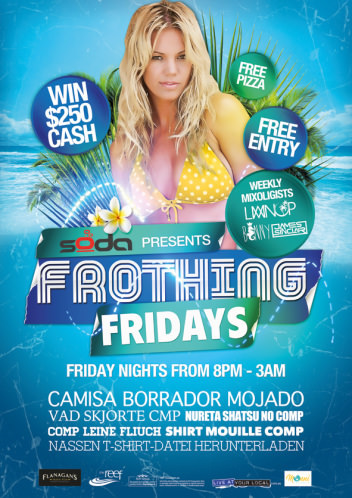 Frothing Fridays
DJs - Lmnop, James Sinclair & Benny
Free Entry
Free Pizza
Games & Giveaways
$250 cash prizes
8pm-3am
This is a FREE event
18+ Only - Photo ID required
Sunday Sets
In the Irish Garden
Every Sunday, we rock out in our new Beer garden with Noosa's #1 Sunday Sesh. Live bands, soloists and Duos every week from 4pm. Plus Free Pool all day. Don't miss our awesome Sunday Sesh!
18+ Only - Photo ID required
From 4pm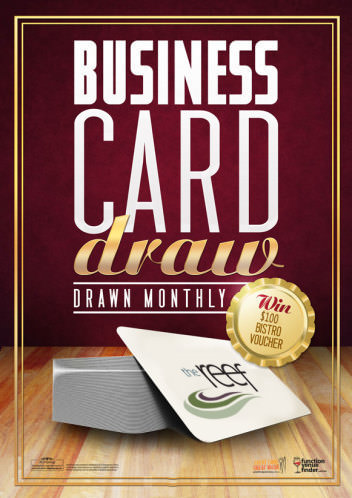 Business Card Draw
Come into our Bistro and drop your business card into the barrel to go into the draw to win $100 Dinner Voucher. It's as easy as that! Monthly draws for your chance to win!
Gaming Promotions
Come in and enjoy great prizes and entertainment in our Gaming room.
Monday to Thursday 10am - 4pm
Pokie Play: Scratch & Match or Second Chance Draw
Scratch to win instant cash or enter second chance draw on Thesdays at 4.30pm (must be present to win).
Fridays from 3pm - 8pm
Crazy Cash 3pm - 4pm
Meat Trays 5pm - 6pm
Members Draw 7pm
Conditions apply. Gaming room only. See staff for details.
18+ Only - Photo ID required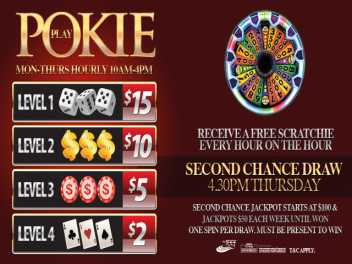 Pokie Play
Have your chance to win with our Pokie Play from Monday to Thursday hourly 10am - 4pm.
Level 1 $15
Level 2 $10
Level 3 $5
Level 4 $2
Receive a free scratchie every hour on the hour.
Second chance draw 4.30pm Thursday - Second chance jackpot starts at $100 and jackpots $50 each week until won. One spin per draw. Must be present to win.
Conditions apply. Gaming room only. See staff for details.
18+ Only - Photo ID required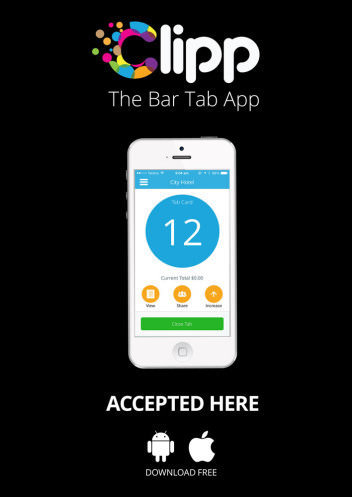 Clipp the Bar Tab App is Now Here
Clipp the Bar Tab App allows you to pay for food and drinks directly from your smartphone.
Simply download the app and connect a credit card to your account.
Set your tab limit and flash your phone when placing your order.
View all your purchases in real time and when you're ready to leave, simply close the tab from your phone.
Come and give it a go!
See staff for details and conditions.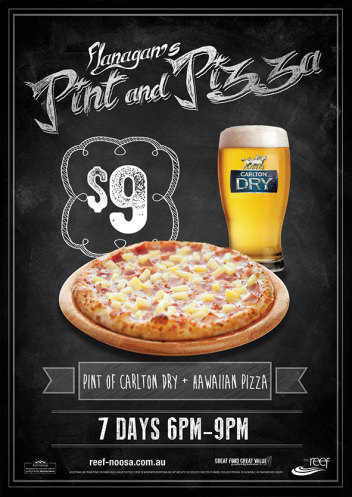 Pizza and Pint
Don't miss our great value pizza meal deal available every day from 6pm - 9pm. For just $9 enjoy a delicious Hawaiian pizza and a pint of Carlton Dry.
Conditions apply. Not available with any other offer. May not be available on public holidays. See staff for details.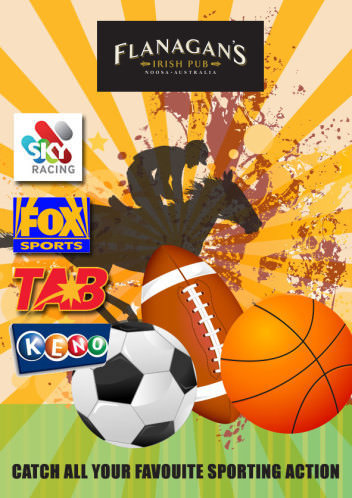 Catch Your Favourite Sporting Action
Flanagan's Irish bar has all your favourite sporting action with full TAB wagering facilities open daily from 10am until late. Watch Fox Sports, Sky Racing and enjoy our KENO facilities as well.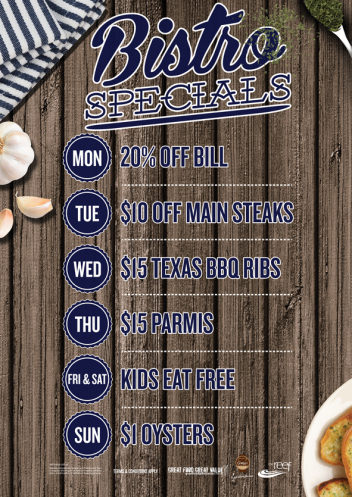 Weekly Bistro Specials
There's always a great special on in our Bistro for you to enjoy.
Monday - 20% Off your bill
Tuesday - $10 Off main steaks
Wednesday - $15 Texas BBQ Ribs
Thursday - $15 Parmis
Friday & Saturday - Kids Eat Free
Sunday - $1 Oysters
Conditions may apply. Not available with any other offer and may not be available on public holidays. Please ask a staff member for details.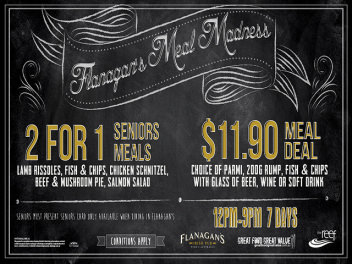 Flanagan's Meal Madness
Every day of the week we have the best lunch specials available.
Enjoy a $11.90 meal deal with either a pot of house tap beer, a glass of house wine or a soft drink from our selected range or if you are lucky enough to posses a seniors card, we have an amazing buy one get one free deal for you.
Conditions may apply. Not available with any other offer and may not be available on public holidays. Please ask a staff member for details.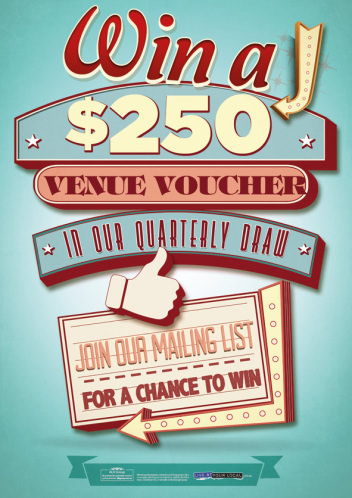 $250 Giveaway Competition
We're giving away a $250 Venue Voucher every quarter!
Make sure you're getting all of our updates and latest special offers to win. Simply fill out the form linked below.
Terms and conditions apply.